Networking and Devices
•Devices running StackCaptioning Client must be able to connect with StackCaptioning Manager to sync their caption content and config file.
•Devices and servers running StackCaptioning Trigger must be on the same flat network of static IP addresses. This is an encrypted TCP link.
•StackCaptioning Trigger is licensed by number of Android clients. This shows in the Trigger app: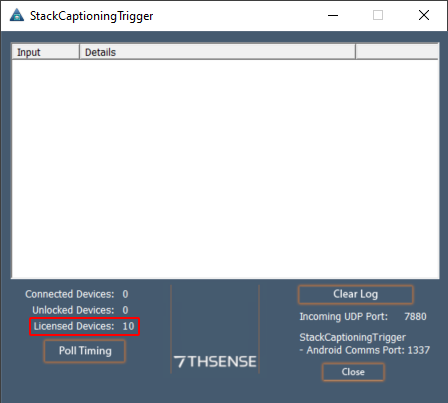 •To lock down the device functionality and enable only Captioning to be used, you will need to purchase a 3rd Party licence. This software is not supplied by 7thSense as part of the Captioning solution, but we recommend SureLock for Android: https://www.42gears.com/products/surelock/
Caption Resources
•Visual captions are in .srt format text files (see: SRT (SubRip Subtitles) Files).
•Audio captions are in .mp3 format. .wav files are not currently supported.
•Caption display (colour, size, font, background etc.) can be enhanced using custom HTML files (see: Styling Captions).
Scene captions can be added in multiple languages. Attraction, site and language are selected on each Android device.
Note: The Stack (web interface) core modules are pre-installed on every Delta Media Server, but please contact us if you have any difficulty with installing them onto a different setup machine if required (see notes below).

Click on areas of the diagrams below to jump to sections of this guide.
Configuration of a StackCaptioning System
How Captions are Triggered and Displayed
See also: