Add and remove Attractions for a Site, or edit their names, from the left-side menu.
You may have more than one route for duplicates of the same attraction in the same location; you can copy an Attraction including all its Scenes, Subscenes and language options, then rename the attraction and its parts to suit (Route A, Route B, for example). (Copy Attraction is a featured added in Manager 1.0.13.)
For each Attraction, enter the number of Scenes required. Here, our new site ('Creature Worlds' now listed, top right) has been given three Attractions, and the Attraction 'Marine Monsters' has been give three Scenes. Caption language options have been added for this Attraction:

Attraction Details
No further information is needed at the level of Attraction. New Attractions can be added, but their order cannot be changed.
New HTML features with Manager 1.0.13:
Use Attraction HTML File
Check this if you have a custom HTML wrapper you want to use for all captions, all Scenes and Subscenes, across the whole attraction. See Styling Captions.
Select Attraction HTML File
Select the HTML styling wrapper you want to use for the whole Attraction. This will disable the option to style Scenes individually.
You can now add the captioning files to the Scenes. New Scenes and Subscenes can be added, removed and re-ordered.

Add Scene
Add a new Scene to the Attraction. Captioning files will next be added to Scenes by expanding each Scene panel.
Add (Remove) Language
You have the option to add languages for each Attraction (it applies to all Scenes and Subscenes). Select the appropriate flag and add the language name in the speaker's language. Captioning assets are added to Scenes for each language separately. Removing a language will delete those assigned caption assets.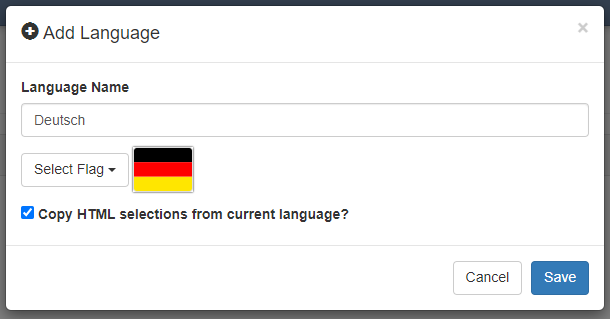 Where the styling HTML wrapper is not set Attraction-wide, the option to use the same HTML styling selections for captioning files in this language will save time when setting up the scenes.
Select the language from which you want to copy the HTML settings before adding the language. Unchecked, a language can be styled individually per Scene.
Preview Tool
The Preview tool allows you to step through an Attraction's scenes and Subscene captions in the browser, once they have been assigned. The play controls are common ones and have tooltips.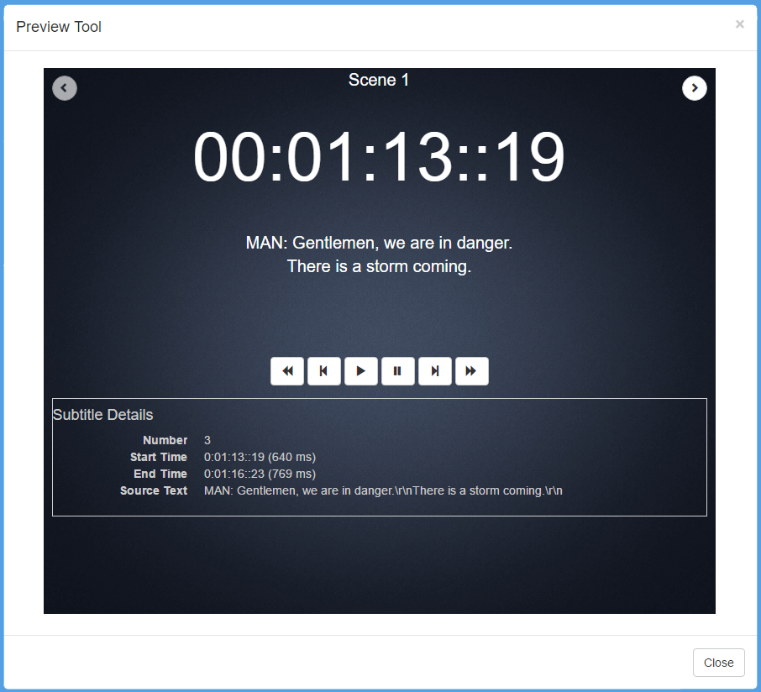 The displayed text is from the .srt file, and audio assets will be played.
To move sequentially between Scenes and Subscenes, use the round arrow buttons in the top corners.
Expand (Hide) Scenes detail
Click on Scene titles individually to expand or hide their details for editing, or click here to expand or hide details of all Scenes at once.