Delta Media Servers: the hardware that provide optimised superfast delivery of uncompressed video and audio across multiple synchronised devices to any number of output channels.
DeltaServer: the playback server software with comprehensive integration to external show control devices and a limited user interface. DeltaServer serves its shows into the Playback Window, which is usually shown full screen during playback.
DeltaGUI: the graphical user interface with full editing capabilities. DeltaGUI allows full control over the display environment parameters, for multichannel, flat, curved, dome or mapped projection surfaces.
DeltaOffline: this is a dongle licence-limited edition of the full DeltaServer and DeltaGUI software, designed for offline use by show creators on a PC rather than a Delta Media Server. Anything created in DeltaOffline can be played back without limitations on a full Delta licence with Delta Media Servers.
Getting Help: Learning Delta
This guide covers the functionality of Delta Media Servers, using the DeltaGUI display setup, and creating shows from mixed media, multiple effects, and controls. The version described and illustrated here is Delta 2.5, but most of the principles are just the same as Delta 2.4.
From DeltaGUI Help menu: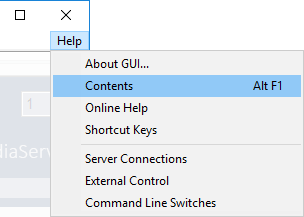 Contents
opens the eBook guide installed with your software.
Online Help
takes you to the latest online guides to all 7thSense Design products.
Some major sections of this guide also offer sectional PDF downloads.