On the System Configuration page, the current server name and its Ethernet IP Address is shown: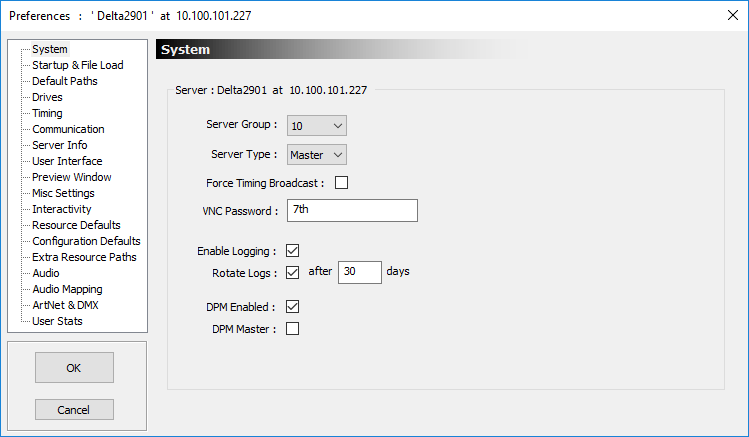 You can configure which group this server belongs to, using the Server Group drop down list.
The Server Type is either Master or Slave for multi-rack configurations. For single rack systems set this to Master.
Avoid having two masters in the same group; this leads to conflicts in timing.
Note that Edit Station licences can only be a master and will not control Slave nodes.
Force Timing Broadcast
If off, timing information is broadcast from the master server only when slave servers in that group are detected by the master server – this cuts down on network traffic. With this option on, timing information is always broadcast for this group, which can be used by other equipment listening to this timing.
VNC password is used with the V toolbar button to automatically login to the Delta server
Default password: 7th
Enable Logging
If enabled, will write a debug log to disk (C:\Program Files\7thSense\Delta\Logs), a new log will be started each day if the server application is run on that day. If DeltaServer crashes, an additional file is generated, prefixed 'DeltaServer_MiniDump-[version]~.dmp'.
Rotate Logs / After N days
If enabled, log files older than N days will be deleted.