To Disable a resource on the timeline, simply Right-click on the resource and select Disable (or Enable if it is disabled).
You can also select its properties and choose Disable from the General tab.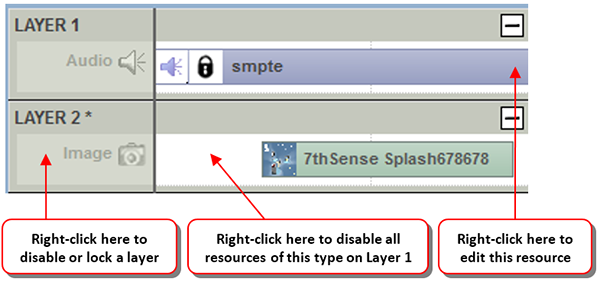 Disabled resources act as if they are not present on the timeline, and are drawn in light grey.
To Disable an entire Layer, right-click on the Layer area outside a resource, and select Enable or Disable.
From this menu, you can also Delete an entire layer, collapse or expand a layer, or insert padding space or cut space at the current cursor position.
To delete a resource, Right-click on the resource and select either Delete this Resource or Delete all Resources of this type on the layer. You can also drag the resource to the trashcan.
Locked resources behave as normal, except you cannot select them or move them in DeltaGUI until unlocked. A lock icon

shows up when this is active.
To Lock a resource or layer, right click and choose lock / unlock.
To Split a Movie, Video Capture, Text resource or Audio file, right click and press Split. This will create two resources where the timeline cursor is located which are contiguous in time, so until you move the second movie / audio file, it will still play with no gap. This function can be used to align separate parts of movies or audio files to help in synchronising content.
To Cut a visual resource, choose Cut Left from Cursor to remove all parts of the resource to the left of the cursor, or Cut Right from Cursor to remove parts to the right.
To Align resources, right click a single resource or rubberband around multiple resources, then right click and choose align left, right, To Cursor, To Next Marker or To Previous Marker.
To Concatenate resources, rubberband around multiple resources, then right click and choose Concatenate left or right.