Movement nodes add the capability to synchronise movement between meshes, media and eyepoints using their names in Sequences (see Delta User Guide). By manipulating a parent node, linked nodes will follow without separate programming. Examples include rotating images on car wheels, growing and moving two eyes together, or bringing several meshes into view simultaneously.

The three controls create or delete nodes (third button), assign nodes to eyepoints (first button), and to meshes (middle button).
Creating a Movement Node
There are six sequences of Translate (change XYZ coordinates), Rotate (HPR angles) and Scale (XYZ relative dimensions), though not all three aspects may be needed: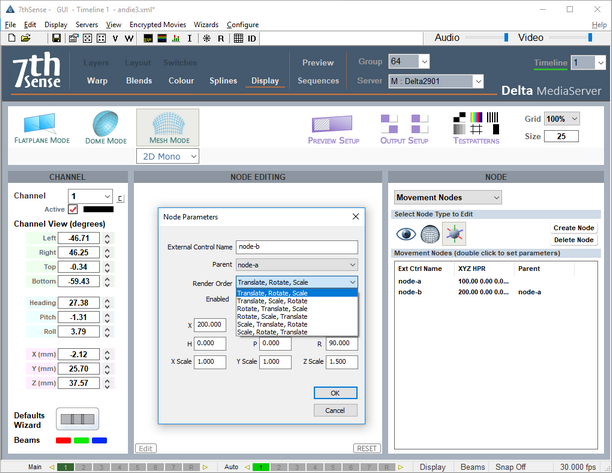 •To synchronise multiple movement nodes, one must be a parent and the others assigned to it.
•Movement nodes are assigned to eyepoints and/or meshes.
•Movement nodes can also be addressed by External Controls (see the Delta User Guide for how to use these). For available commands in DeltaGUI, Click Help > External Controls and find Movement Node Commands: