This dialog allows you to set the resolution of the hardware preview (if fitted) or preview recording output format, note that larger resolutions are a larger load on the server and DeltaGUI.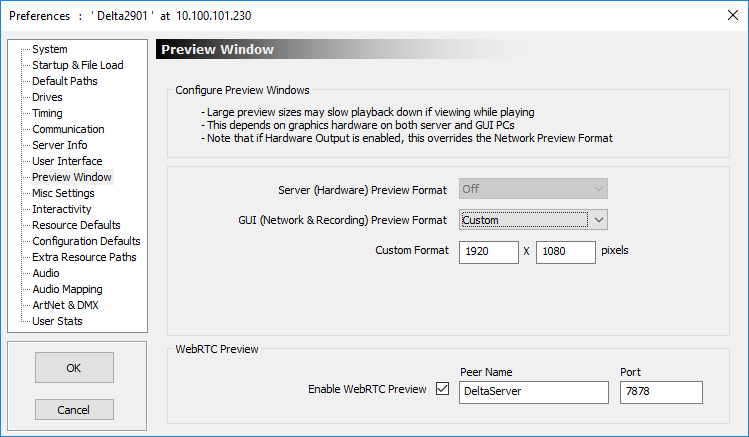 Server (Hardware) Preview Format
If preview output hardware is fitted to the server (can be HDMI, SDI etc.), this drop-down allows configuration of the available output video format.
GUI (Network and Recording) Preview Format
Select one of the standard output formats or Custom, and type in the custom Width × Height in pixels. This format will be used when Preview Recording is activated either from the Recording dialog or external control.
Note: Preview Recording is controlled from external control or a sequence using the PREVIEWRECORD, PREVIEWRECORDSETTINGS, REFRESHMOVIE and DELETE_DISKMEDIA commands.
WebRTC Preview
Enable WebRTC Preview
The streaming preview to web browsers can be enabled here, and the Peer Name and Port set – this requires a Delta Web Service / Signalling Server to be running.