Delta can be configured as having HDSDI outputs instead of DVI, which is useful in certain AV installations having long video cable runs.
The HDSDI option has to be licenced and a compatible HDSDI output card installed.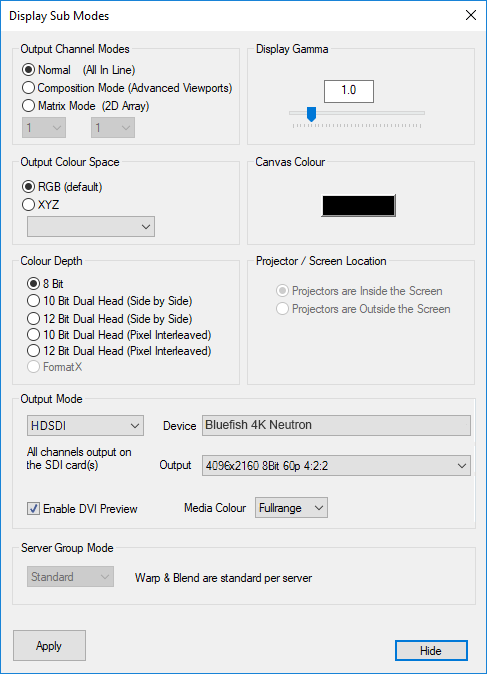 You can configure the output mode in Config > Display, Output button. In this dialog you can choose DVI or HDSDI outputs. In HDSDI mode, you can select the various HD video formats which are stored in C:\ program files \ 7thSense \ Delta \ System \ SDI_BF.XML. You can edit this XML file to add other video formats, which will work as long as the mode is supported by that specific HDSDI card.
Enable DVI Preview
Enable this to also show all channels on the DVI outputs. Note that these are preview only, and could show video tearing on the DVI outputs in this mode.
Media Colour
Rec709
This is the HD standard in which certain colours are reserved and the media uses a restricted range of values (8Bit is 16 to 235, 10Bit is 64 to 940). Choose this if the media you have conforms to the Rec709 standard.
Full Range
Select this option if the media uses the full range of colours (0-255 in 8Bit, 0-1023 in 10Bit.
Audio
Note that for servers with Bluefish 4K Neutron cards, audio can be optionally made to stream via HDSDI (up to 8 channels). Please contact 7thSense Design for advice.
Once installed, in HDSDI mode, audio will always be streamed via HDSDI and not output on any other sound device.
HDSDI Timing
When in HDSDI mode, the timing is taken from the HDSDI card, so in DeltaGUI, Config > Preferences > Timing:
•Check or Uncheck the LTC Control – Enabled checkbox, according to the LTC / SMPTE chase mode you need.
•Timing Mode is 'Use hardware'
•Framerate is 'Custom' and type in the actual framerate you need (e.g. 23.976)
•Set Automatic Framerate to unchecked and select 'Custom', type in 23.976
•Set Force Framerate to unchecked